How much in your business feels like pure joy to you?
When you act to get certain results, you quickly enter a state of striving and a pushing energy.
You're attached to the outcome of your actions or how you want things to play out.
This energy of attachment and control costs a LOT of energy (and stress) and closes you off from effortless flow.
When you do things for the joy of doing them, without attachments to what you think should happen (or how), you're wide open to receive more of everything you want and need. 
You feel more alive. You're more relaxed. You have fun!
You're not worried about results.
You're not doing something to get something, but to enjoy what you're doing (to enjoy your life!) as much as you can.
And paradoxical but true: the less you worry or even think about results, the better your results will be.
When you let go of attachment, surrender to the moment, and are fully present to whatever you're doing, you are most open to receive. Nothing blocks your flow!
The more joy you allow in your business and life, the better you feel, and the better your results.
How can you find more joy in what you do?
How can you find more joy in your day?
If you let go of a need to get results and did something, anything, just for the joy of it, what would you do?
❤️
Ready to find more joy, uncover & realize your boldest, most beautiful dreams, and create a business & life you adore?
I can help.
Check out my 1-1 coaching & apply for a spot if it speaks to you.
Love,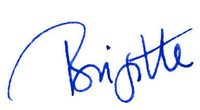 Enter your email to get FREE weekly(ish) updates on doing business & life YOUR way