There's a limit to how much you can do in the time that you have. If you want to achieve more without doing more, or you don't have the time or energy to put in extra hours, the good news is that you don't have to work harder.
Why?
Because doing is not nearly as important as BEING. You are a limitless being. That's who you TRULY are. When you let your limitless self, your soul, guide you, and you follow your intuition and energy, you start creating in a different way.
You stop pushing and start allowing.
You stop overthinking, overdoing, and overworking and start allowing.
You stop chasing and start receiving.
You stop stressing and start relaxing.
You stop worrying and start trusting.
You surf the cosmic waves of energy, synchronicity, and opportunity. The universe handles the logistics of your needs and dreams. All you have to do is follow your inspiration and inner wisdom in each moment.
It's a different way of living, being and creating.
It's the way of the new world.
It's YOUR way.
Especially when your dreams are big, your energy or time are limited, or you're born to contribute to the birth of a new earth, creating by pushing, striving, forcing, and constantly doing, will no longer work for you. (Or it will work but doesn't make you happy.)
If any of this resonates, you're ready to let go of the pressure you put on yourself to constantly do, do, and do some more. You're ready to let go of taking action for the sake of taking action.
You're ready to let go of the conditioned beliefs that tell you that you need to be productive and spend your time wisely and efficiently.
You're ready to let go of your need (or addiction) to take constant action and always be 'on'.
You're ready to let your soul guide you and co-create with the universe like never before.
You're ready to embrace your TRUE self, and let your dreams unfold by being all that you are and being completely true to yourself.
Your first step is to decide to let go of thinking that the only way to achieve something is by taking action, and to open your mind to the possibility that maybe, there's a different way.
Your second step is to start listening to your intuition and act on it more than ever before in EVERY area of your business and life.
If you'd like to make this journey easier, I can help you 1-1.
I help you re-connect to and express your true self. I help you uncover what you REALLY want, and clear the obstacles that stand in the way of creating a business and life you love, in your own way.
You learn to follow your intuition in every area of your life and business, including marketing and making money.
You let go of pushing and forcing and learn to relax, even when you think you have no time for it.
The result? Inner freedom, an emptier schedule, more joy, more inner peace, and feeling like you finally live the life you're meant to live.
Check out my 1-1 coaching here and apply for a spot if it speaks to you.
Love,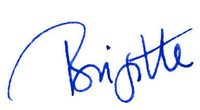 Want to receive free weekly(ish) articles & inspiration on creating your ideal business & life in your own way, on your own terms? Plus updates on my books, behind-the-scenes, and other cool stuff I don't share anywhere else? Sign up for it below!
Enter your email to get FREE weekly(ish) updates on doing business & life YOUR way