Lately I realized on a deeper level how quickly I can think myself out of ideas and inspiration. 
Even though I KNOW that my inner guidance is always spot on, and I usually follow it, there are still times where I dismiss the guidance I receive. This often happens in a split second. An idea comes up, it feels like the right thing to do for about 10 seconds, and then my rational mind kicks in with so many objections, that I don't follow through.
I almost thought myself out of something again recently when I got the idea to host a free call where people on my list can Ask Me Anything About My Books.
Objections instantly came up: who'd be interested in that? Who do you think you are, to think that people give a shit about this? What if no one shows up? What if there are no questions? And when are you going to do this call? Before the upcoming launch of your book 'The Happy Hermit – how to thrive as an introvert entrepreneur'? On the day of the launch? What's the smartest way to do this? 
The idea that started as something simple and fun became Super Complicated, and I didn't want to do it anymore.
Until I caught myself. Shit, Van Tuijl! You're doing it again! Over thinking and complicating things and killing an idea before you give yourself a chance to find out if it might work out!
I'm not the only one who thinks herself out of her ideas or complicates things.
You do it, too! Why? Because fears get in the way. Your idea feels scary, so you come up with reasons why it's best to not implement it. Because you want to do something the smart way, and suddenly it becomes complicated. Sometimes an idea doesn't make sense to your rational mind, and you dismiss it. And sometimes, you miss out on an idea because it gets lost in the thousands of thoughts that go through your mind all day, every day.
The solution? Pay closer attention to what goes on inside you.  Pay closer attention to what you feel, what you think, and the ideas that come up out of nowhere. And when something seems easy to implement, just DO IT. See where it takes you. Don't try to control what should happen and don't be attached to any outcome. Do it for the sake of doing it.
That's what I'm doing, too.
So tomorrow, on Thursday, June 2, I'm hosting a free Ask Me Anything About My Books Call.
It's for the people on my list only.
Not on it yet?
I'll make sure you receive the call-in details before the call starts.
'See' you then?
Love,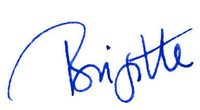 P.S.: What idea will you implement that you almost thought yourself out of?? 
P.P.S.: My book 'The Happy Hermit – how to thrive as an introvert entrepreneur' is available on June 6!
(Well; fingers crossed it's available then—I still don't have the e-book files. Trusting they'll arrive in time. ;-))
When you purchase your copy BEFORE Wednesday, June 22, you receive this bonus master class:
The 5 mindset shifts to thrive as an introvert entrepreneur
Enter your email to get FREE weekly(ish) updates on doing business & life YOUR way