On December 31, 2021, I came up with a cool idea: to set challenges for myself throughout 2022. I named it 'The One Year Challenge Project' and decided to write a book about it that I would publish in the spring of 2023.
I set my first challenges and wrote the introduction of the book, sharing the background of this idea. At its core, it came from a desire to feel more vibrant, more alive. I thought setting different challenges for myself would fulfill that desire.
I was excited at the start. My project delivered what I was looking for: I felt more vibrant and alive!
Over time, my excitement vanished. This week, I realized that the desire to feel more alive was spot on. However, the way to fulfill that desire is a different one. It's not about setting myself different challenges each month and writing a book about that process.
The desire to feel more alive was a call from my soul to sink even deeper into myself. To release even more old stories, beliefs, and patterns. To let go of even deeper layers of emotions and fears. To listen to and inhabit my body even more.
I don't need challenges for that. All I need to do is to BE more present and to BE with whatever IS in each moment.
With that, my One Year Challenge Project has fulfilled its purpose. There's no need to continue it. There's also no need to finish the book. So, I deleted everything I wrote over the past 5 months.
What I often see in my clients, is that they stick to things because they already invested so much time, energy, love and/or money in it. You might do the same. Maybe you spent a lot of time, energy, and money on a project that you no longer love. Maybe you no longer enjoy delivering program X or selling offer Y, but your clients still want it and you don't want to disappoint them.
But here's the thing: holding on to something that's no longer aligned with you is a HUGE block to more joy, happiness and (business) growth. It depletes your energy.
I know it can be scary to let go, especially when you already invested in it. But when you let go, you gain more freedom, space, energy, time, and creativity. You feel happier and more alive!
❤️What would you let go of if you gave yourself permission to quit and trusted that letting go would serve you better than holding on?
Love,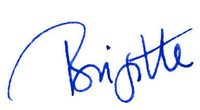 P.S.: Letting go of thoughts, beliefs, and stories that are outdated and no longer serve you drastically improves your well-being.
My book 'The Inner Minimalist – clear the clutter of your mind for a simpler, quieter and happier life' helps you with that.
P.P.S.: my new book 'The Happy Hermit – how to thrive as an introvert entrepreneur' is almost available.
It officially launches on June 6!
And if you order your copy BEFORE Wednesday, June 22, you receive the bonus master class:
The 5 mindset shifts to thrive as an introvert entrepreneur
Enter your email to get FREE weekly(ish) updates on doing business & life YOUR way