I was watching an episode of Project Runway (a series where fashion designers compete for a price.
The finalists worked on their runway collection. One of the judges gave them a piece of advice: "Please try to enjoy creating your collection. If you don't enjoy it, we can feel it when we look at your designs."
In another series I love to watch, MasterChef Australia (a cooking competition), the judges often say something similar: when you cook with love and joy, we can taste it.
If you're stressed and rushed, we can taste that in your food, too.
The same is true for you.
If you feel stressed and frustrated about your business, we can feel it. If you're doing something you don't like to do, we can feel it. If you're enthusiastic about something and you love what you do and how you do it, we feel it, too!
How can you add more joy to your business?
How can you put more love into what you do? How can you feel better about your business?
Reflect on that and shake things up if necessary.
Others really CAN feel if you genuinely love what you do, or not.
People may not always be able to pinpoint what exactly feels off. But they register it anyway.
(Plus: enjoying yourself and doing what you love, including in your marketing, isn't only more attractive to others. You'll feel happier, too!)
Love,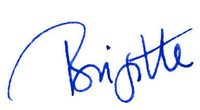 P.S.: Also check out this podcast I recorded earlier this week:
Do more things for the fun of it (especially in your business!)
Enter your email to get FREE weekly(ish) updates on doing business & life YOUR way