I LOVE books.
I'm usually reading at least two books at the same time: one thriller / novel / fantasy, and one self-help / business / spiritual book.
Even though I'm always reading, my stack of UNread books keeps growing.
For a long time, that didn't bother me.
Until last November when I bought 5 books in a week.
I was still reading books (duh), but mainly thrillers. I put the spiritual etc. books aside for a while.
And it started to bother me. All that inspiration waiting for me, and me not diving in!
I often thought that I should start reading those unread books. But I never did.
Until I reminded myself that nothing changes unless I decide to change AND act accordingly.
So now, I'm taking time daily to read in one of my unread spiritual / self-help / business books.
Some days, I read half a book. Other days, I read two paragraphs, get excited about an idea, or get a great insight, and spend the rest of the time pondering and journaling on that insight.
And I LOVE it all so much!!! The reading, the pondering, the mind-opening, the journaling, the learning, ALL of it.
I KNEW I love that, but somehow, I stopped giving that the time and attention it deserves.
It doesn't matter why that happened. (I do have some thoughts on that because I journaled on it. ;-))
What matters is that I'm DOING it again.
Even though you KNOW you love something, you want something, or you know something is good for you, that doesn't mean that you automatically DO something about it.
Sometimes, you need to give yourself a little push to pursue that dream, take that action, drop that habit, and give the thing that matters to you the time and attention it deserves.
⭐️ Is there something YOU want to do, would love to spend more time on, or KNOW would be good for you?
⭐️ If so, when will you start DOING it?
Love,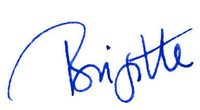 In the picture:
A (VERY small part of my stack of unread books. (Those are the ones on my nightstand only) (And don't get me started on the number of unread ebooks. ;-))
Enter your email to get FREE weekly(ish) updates on doing business & life YOUR way