9.30 AM. Woke up without an alarm. Still in bed. Journaling. Tea.
That's my favorite way to start the day.
95% of all my days start this way.
This was NOT always the case.
I know the routine of waking up earlier than I wanted because I had to go a place I didn't want to be to do something I didn't want to do.
I also know the routine of LOVING the work I do in my business but feeling drained by a too busy schedule.
So how did I change that and created a business that allows me ALL the time and spaciousness for ALL the things that matter to me and make me happy?
I consciously created it this way.
❤️ I stopped tolerating what I no longer wanted;
❤️ I took time to reflect on what I TRULY wanted instead;
❤️ I CHOSE to create the business & life I truly wanted;
❤️ I healed, released & transformed the fears & doubts that came up because of that decision;
❤️ I took the necessary actions to make sure my business allows me to do what I love and live the way I love, even when it scared me, cost me money, or felt otherwise uncomfortable or inconvenient.
Having a business you love is not an accident. It's not pure luck and it's not a fluke.
It's a decision.
Yes, I know, there can be circumstances that make it hard or even impossible to create your business in a way that's 100% ideal for you.
BUT no matter what your circumstances are, there's ALWAYS a way to change them. To choose more freedom. To create more space. If only by changing your inner world, your perspective, what you choose to focus on.
There's ALWAYS a way to FEEL freer and liberate yourself from what holds you back or doesn't feel good.
And there's ALWAYS a way to do business & life in YOUR way, on YOUR terms.
This begins with the decision to create a business you're in love with, and to tolerate nothing less.
Are you ready to make that decision?
If so, check out my exclusive program Beyond Limits – create extreme freedom & spaciousness in your business.
A transformative 9-month journey for 6 driven women.
You can read all about & apply for a spot here
Love,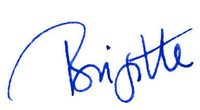 Enter your email to get FREE weekly (ish) updates on doing business & life YOUR way: