What's your dream for the world?
When I look around me, I see that many people are scared.
Scared for what's happening in the world and for what might happen next.
But the future isn't set in stone.
We create the future. We create the future with what we focus on today.
Focus on fear and you'll create more fear.
Focus on joy and you'll create more joy.
Focus on solutions and you'll find solutions everywhere.
Focus on peace and you'll create more peace.
What do you focus on?
On the world you'd love to live in?
Or on a world you fear and would rather not be in?
Choose wisely, for what you focus on tends to expand.
Use your creative powers for good and to consciously create the world of your dreams.
What's the gift, the value, the solution, the healing, the beauty, you share with your business and work?
How could you expand that? How could you reach even more people with it, make an even bigger difference with it?
Enjoy dreaming a brand new world into being!
(📷  the quote in the picture is from the wonderful book 'Moonshots – creating a world of abundance' by Naveen Jain.)
Love,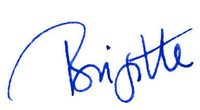 Enter your email to get FREE weekly (ish) updates on doing business & life YOUR way: