I used to tone down my message.
I felt uncomfortable to say that I helped women to put themselves first. Let alone use the word selfishness!
I was afraid I would alienate potential clients when I talked about the importance of being more selfish. It felt uncomfortable and weird.
So I toned down my message. I talked about the importance of setting boundaries, saying no, and honoring your dreams & your truth. And I never said it was important to become more selfish.
But in toning down my message, I also toned down myself. I made myself and the power of my work smaller.
Until I was fed up with hiding out. I coined & claimed the phrase 'The Art of Divine Selfishness' as my brand and wrote a series of books under that same name.
I see many women toning down their message and opinions for fear to be criticized or disliked and to alienate your clients.
But your ideal clients resonate with your TRUE message and your REAL self. You never have to water down who you are for them! And you'll feel so much better about yourself when you stop shrinking yourself.
👉 Where are you toning down your message, viewpoints, and opinions?
Love,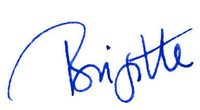 P.S. Do you sometimes tone down your message or don't speak up?
Do you make yourself smaller for fear of not being enough or too much?
If you want to stop doing that and create the business & life of your dreams, my private coaching can help. You can read all about it here. 
Enter your email to get FREE weekly (ish) updates on doing business & life YOUR way: