I've been scared so often and of so many things over the years.
And I still often am, varying from feeling slightly uncomfortable to almost-shitting-my-pants scared.
BUT …
I always said 'yes' to my dreams, even if it took me a while sometimes.
I never let my fears stop me.
And I never will!
Your fears don't have to stop you either. And it helps if you know this:
Growth brings up your fears.
When you stretch into something new, a big dream or a new version of yourself, your doubts and fears come up.
Everything that could stand in your way rises to the surface so you can release it.
Feeling fear doesn't mean that you're weak or you do something wrong.  
It also doesn't mean you should stop or are off track!
The bigger your fears, the bigger the transformation you go through.
The bigger your dreams and your growth, the bigger your fears.
Fears are nothing to fear.
They're just energy passing through. And the things you fear are just thoughts in your head.
Just breathe.
Let the energy, the feelings, the emotions, and sensations move through you.
Breathe.
You're okay.
Nothing is wrong.
Your infinitely wise inner being is only bringing up thoughts and beliefs that stand in your way now.
Your fears and doubts come up so you can breathe through them, and they can leave you.
That's all.
What do you fear?
What transformation & growth is on the other side of it?
Love,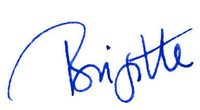 P.S. Do you sometimes shrink yourself or don't ask for what you want?
Do you make yourself smaller for fear of not being enough or too much?
If you're DONE doing that and are ready to create the business & life of your dreams, my private coaching is just what you need. 
Enter your email to get FREE weekly (ish) updates on doing business & life YOUR way: