It doesn't matter through what lens you look at the world: it's obvious there's a BIG shift going on.
So much has changed and is changing still.
I believe the shift of humanity into a higher dimension and consciousness is at the core of it all. More light comes into the world and as a result, you can see what was hidden in the shadows before. This light exposes everything: lies, fears, unhealed wounds—it comes out to be seen, healed, and released.
This process of shining light into the darkness and making the unconscious conscious isn't just happening on a planetary level.
It's happening at a personal level as well. These times bring out fears, uncertainty, and unhealed wounds in many. It all comes up so you can heal and release it and are free to move on to the next phase in your personal evolution.
The world is changing before your eyes. (And your own life perhaps, too.)
What's clear is that change is needed (and already happening). Healing is needed (and already happening). And guidance through the initial chaos of transformation is needed in massive amounts.
THAT'S why there are SO many healers, coaches, and change-makers on the planet today.
THAT'S why you feel called to step it up.
Feel called to DO more, BE more, DARE more, SHOW UP more.
You feel called because you ARE called.
These are the times you are born for.
And whatever you're here to contribute, however you're here to serve and make a difference, whether you're here to serve dozens or thousands or millions:
You are called into your next level of growth.
You are called to show up in ALL of your power and ALL of your light.
It's not only what the world needs.
It's what YOU need first and foremost.
Because if you ignore the call?
It inevitably leads to frustration and unrest.
You feel a tugging, a nagging, a longing that doesn't go away until you say YES! to whatever calls you.
I want you to hear this:
You're NEVER called to do something you're not capable of.
You're NEVER called to be more than you already are.
You're already good enough, worthy enough, and ready enough—even when it doesn't feel like that.
Because the moment you are called, is the moment you are ready.
Dare you say 'yes'?
Love,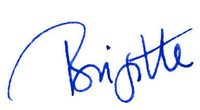 P.S. Need help saying YES to your bigger calling and your deepest dreams?
I opened up 3 spots for a 1-1 Breakthrough Coaching Session with me this month.
2 spots left.
You can read all about & book your spot here.
P.P.S. Also keep an eye out for the brand new master class I'll deliver with Cindy Watson at the end of this month:
From Playing Small to Flying High – Recognize where you're playing small, what it costs you, and how to stop it so you can soar
Doors open soon!
Enter your email to get FREE weekly (ish) updates on doing business & life YOUR way: