Realizing dreams, no matter how big, small, realistic, or unattainable they seem, starts with ONE word.
That word is yes.
Until you say 'yes' to your dream, nothing happens.
You're wishing, wanting, and waiting. Your flow is on hold.
Until you say 'yes' the door to opportunities and inspiration is closed.
Until you say 'yes' you can't see how to get where you want to be.
You can only see how you can achieve your dreams once say 'yes' to them.
(Not the whole road, mind you. You'll get the actions you need to take step by step, day by day, in easy to implement nudges and ideas. Sometimes scary, sometimes simple, but always doable.)
'Yes' opens up power, inspiration and opportunities you didn't know were available to you.
'No' closes you off.
'Yes' opens you up.
'No' is a powerful, important word. It shows you what you no longer want and creates space to show you what you DO want.
And all you have to do to manifest what you want, is say YES! to it.
Nothing happens until you say YES.
'Yes' sets cosmic wheels in motion that bring you magic, synchronicities, coincidences, opportunities, inspiration, actions and ideas you'd never have gotten if you hadn't said 'yes'.
What is it you dream of?
What is it hope, wait, and wish for?
What if you said 'yes' to it today?
Remember:
Saying 'yes' to your dreams is saying yes to yourself, to your soul …
What dream will you say 'yes' to?
Love,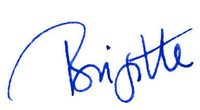 P.S.: Want to say 'yes' to writing your book?
My online program Write Your Non-Fiction Book in 3 Months (in only 30 minutes per day!) can help!
In it, you learn everything you need to know to write, edit, self-publish, market & launch your book – AND how to use your book to grow your business!
This program saves you a ton of time, money, effort & energy to gather all the information you need and figuring everything out on your own, so you can focus on writing your book.
AND you have me by your side to guide, coach, support and cheer you on every step of the way!
Enter your email to get FREE weekly (ish) updates on doing business & life YOUR way: