February 2020.
I struggled with my second book. I didn't enjoy working on it; I procrastinated; and I was DONE with the book after working on it for 9 (!) years.
It was NOT fun. I knew I'd publish the book one day but wondered how long it would still take. (And sometimes wondered If I'd ever finished it.) I seriously doubted myself.
June 2021.
I just published my 5th book; my 6th book is already finished (including editing); the first draft of my 7th book is almost done and my 8th book is waiting to be written.
How did I get from there to here?
I stayed true to my dream and what I know to be true for me: I'm born to write.
I surrendered. I took baby steps. I dropped the stories about how long it took or how hard it was. I focused on writing one word after the other. Every word brought me closer to finishing the book.
I let go of the judgments I had about myself. The book taking longer than I liked didn't mean there was something wrong with me or I was a loser.
I dropped into the present moment even more. I focused on joy and feeling good as best I could.
And I never gave up.
If you're struggling with a dream now: don't give up!
As long as you still want it, it's still worth going for. When something is meant for you it WILL unfold for you! You don't know when and you don't know how, and you don't have to know. The universe handles the details. All you have to do is keep going.
You got this!
Love,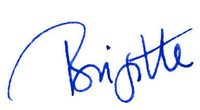 My third book 'The Gap – bridge the space between where you are and where you want to be' gives you tips, tools & inspiration that helps you to enjoy manifesting your dreams instead of struggling to reach them.
You can read all about it here.
.
My latest book, the 5th, is 'The Inner Minimalist – clear the clutter of your mind for a simpler, quieter and happier life.'
It shows you how to release stories & beliefs that no longer serve you and how to access your inner paradise at will, regardless of what goes on around you.
You can read all about it here.
.
.
Want more articles like this automatically delivered to your inbox?
Sign up for weekly(ish) updates below and receive:
⭐️ articles on doing business & life in your own way, in your own terms;
⭐️ behind-the-scenes of my books & business, and 
⭐️ gifts & inspiration I don't share anywhere else.
Enter your email to get FREE weekly (ish) updates on doing business & life YOUR way: