A couple of years ago, Arjen and I watched an episode of Grand Designs, a UK TV program that follows people who build their own home.
They filmed a couple with 4 small kids who were building what they lovingly called a Hobbit House. They bought the land in 2007 and where nowhere near finished at that time in 2012. (I think. Could also be 2009.)
In March 2021, the TV team went back to film their progress. We just watched that episode*. The house was partially done, but still not finished. (It looked STUNNING!)
The youngest child is 17 now, and the presenter, Kevin, asked the couple about the future: what if the kids moved out soon? Didn't they start too late, shouldn't they have worked faster?
The couple smiled and said: we don't look at it like that.
We don't fret over things like that. We know that the future takes care of itself, so we don't even think about any of that.
You could see and feel that this is true. They both looked relaxed and happy, even though they've been building and handcrafting their home for 14 years now, and still have a long way to go.
They enjoy it. As one of them said: this is the lifestyle we chose. We love this. It's how we live and we're happy with it.
I completely resonate with that.
I live the lifestyle of my choice, too. Yes, there are things I don't have yet, dreams I haven't manifested yet that I've had for a loooooooooong time.
And that's fine. Because I live the life I consciously chose, I do what I love, and it makes me happy.
I don't worry about the future either. I follow my flow in each moment and trust that that's all I have to do. (I still have some releasing to do here, but most of the time, I completely trust this.)
How about you?
🌟 Did you consciously choose your lifestyle, or did you let it happen to you?
🌟 Are you doing the things you love NOW, or are you postponing these to some day in the future?
🌟 Do you follow your flow in each moment, or do you fret about the past and worry about the future?
🌟 What if you believed that the future took care of itself without you worrying about it? What would that change and free up for you?
Worry about the future less, and be present to all this moment has to offer more.
Happy NOW!
Love,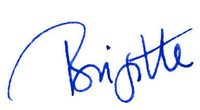 P.S.: Want to live a more carefree life and stop worrying so much?
My upcoming book 'The Inner Minimalist – clear the clutter of your mind for a simpler, quieter and happier life' helps with that!
Available: June 14.
You can read all about it (and order your copy once it's available) here.
.
.
Want more articles like this automatically delivered to your inbox?
Sign up for weekly(ish) updates below and receive:
⭐️ articles on doing business & life in your own way, in your own terms;
⭐️ behind-the-scenes of my books & business, and 
⭐️ gifts & inspiration I don't share anywhere else.
Enter your email to get FREE weekly (ish) updates on doing business & life YOUR way: