Back in 2010 I regularly got publicity in Dutch media. Reviews of my book, interviews and short updates about some of my e-courses or workshops were placed in local and national media. Several times a journalist reached out to me instead of me trying to reach them.
People sometimes asked me how I did that. What was my secret?  
There was no secret. It was simply the outcome of taking consistent actions even when I didn't see any results yet—and to keep going until I did.
In a nutshell, that's all there is to it.
So which actions did I take?
In 2007 I learned that a great way to get free publicity was to send press releases. That sounded good to me, so I started doing that. I read everything I could about writing effective press releases, and for a while I sent one out for everything I did or launched in my business. I literally sent hundreds of press releases.
When you do that, sooner or later something WILL happen.
A journalist will contact you or one of your press releases will be printed in a free local newspaper. Because like so many things, this is a numbers game. If 1 in a 1000 press releases gets picked up you can get lucky the first time. But it can ALSO mean you need to send 1000 press releases. (I'm making that number up, by the way, just as an example.)  
When you keep going and deliver a good job once a journalist contacts you, it will become easier and easier to get publicity. And in the end you might end up in a place where a journalist reaches out to you.
I stopped sending out press releases in 2011 when I started working globally and changed course in my business.
I put my focus on getting my new business off the ground and sending press releases was not on my agenda. The publicity momentum I had going dried up. I was fine with that. Other things required my attention.
Fast forward to now.
Publishing books has become a steady part of my business since last July. Last year, my attention was focused inwards, on writing and publishing books. I didn't have the mental or energetical space to spend a lot of time promoting my books. That required an outward energy I simply didn't have at my disposal.
I do now. So naturally I looked back at 2010 and how much publicity I managed to generate.
"How did I do that?" I asked myself.
And I remembered. It wasn't so much about what I did or how I did it. It was mostly about consistency. About being determined to get my book and message out into the world, to take the actions that were perfectly aligned with me, and to keep taking those actions even when for a very long time, it seemed like nothing happened.
That's all I have to do now, too.
To take aligned actions that are a perfect match for me, at the perfect time. Or, in other words: to follow my intuition and take ALLLLLL the actions she guides me to take, and to keep doing that, even when it seems it's leading me nowhere. And to keep going.
So that's what I'll do. Because I'm committed to get my books into the hands of millions of readers. And yes, I know it's your vibration and energy that are more important than your actions. It's your consciousness that creates your results. Of course it's possible that one of my books goes viral without me lifting a finger. Just like sending out one press release could potentially land you a major publicity opportunity.
But… too often people use this spiritual truth as an excuse or justification to avoid doing things that scare them or feel uncomfortable.
When you take zero actions because that's TRULY aligned, it's the best thing to do and it will get you what you need.
But when it isn't? When you don't do the things your intuition calls you to do? When you're not committed to your growth and you avoid your fears, pains and blocks and rather wait for the universe or the angels to step in and hand you what you want on a silver platter? You'll be waiting a long, LONG time my friend.
Choose to trust your path. Keep following your intuition and keep doing what you KNOW is right for you. Even when it feels uncomfortable. Even when it seems like not much is happening.
What's meant for you will come to you when you keep showing up for it.
Not once or twice or even ten or twenty times. Nope. When you show up for it as long as it takes, and you keep going until it's yours.
Sometimes it's yours in the blink of an eye. Other times, it takes years. It doesn't matter. Just keep going and enjoy the ride as best you can!
What's your big dream?
Are you committed to it? Showing you up for it FULLY? Are you doing what you KNOW you have to do?
Do it, babe. Your life, happiness, dreams—YOU!— are worth committing to!
Love,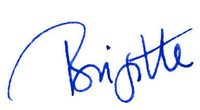 P.S. Need help and support to make your biggest dreams real?
I can help! Over the past two decades I helped thousands of women to get clear on their dreams and make them real.
My clients have launched businesses globally, published their first books, doubled their income, and realized their most important dreams and desires.
And they did ALL of it in their own way, on their own terms!
Wonder if I can help you, too?
Read more about my 1-1 coaching and apply for a spot here.
.
P.P.S.: Ready to create a business & life you adore, on your own terms, in your own way?
My new book 'The Art of Divine Selfishness – transform your life, your business & the world by putting YOU first' is for you!
Grab your copy before MONDAY, March 22, and get a super cool bonus including 4 trainings that bring you more freedom & happiness!
.
Want more articles like this automatically delivered to your inbox?
Sign up for weekly(ish) updates below and receive:
⭐️ articles on doing business & life in your own way, in your own terms;
⭐️ behind-the-scenes of my books & business, and 
⭐️ gifts & inspiration I don't share anywhere else.
Enter your email to get FREE weekly (ish) updates on doing business & life YOUR way: