Working on goals and dreams sometimes feels like hard work.
When it takes longer than you'd hoped to get your desired results, impatience, doubts and frustration can show up.
That definitely happened to me during the nine years it took me to publish my book Unmute Your Life!
One of the most important things that helped me get through those nine years without giving up on the book or going crazy, was focusing on two things.
Joy, and doing things I loved.
When my book only triggered frustrations and nothing about it pleased me, I focused on joy and love in general.
I asked myself:
What would I LOVE to do today?
What would bring me joy today?
I implemented the answers that came up as best I could, whether or not they had anything to do with the book.
I enjoyed trying a new recipe or read in the sun after lunch. Every day, there were numerous things that brought me joy. And there was always something I loved to do.
(What you focus on is what you'll see more of. Choose your focus with care.)
Frustration and impatience block your flow. Joy and love open it up.
It doesn't matter if what brings you joy and what you love to do have ANY relation with your goals, dreams or business AT ALL.
You're either open to receive flow, inspiration, joy, love (AND the unfolding of your dreams and goals!) or not.
Anything that makes you feel genuinely better benefits you in ALL areas of your business and life.
If you want to achieve your goals with more ease, pay more attention to what brings you joy AND the joy that's already present in your life.
Do more of what you love, whether or not it has anything to do with your goals, dreams and business.
It won't only make it easier to manifest what you want.
It'll make you happier, too!
And isn't more happiness what you expect your dreams to bring you anyway?
Might as well take the shortcut and be happy now…
What would bring you joy today?
What would you love to do?
Do it.
You'll feel happier.
(And your business, goals and dreams thrive on it, too!!)
Love,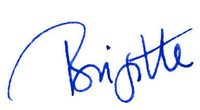 P.S. Want more tips to make achieving your goals easier?
Join my brand-new master class How to Reach Your Dreams with More Ease – 3 counterintuitive ways to accelerate your growth
You receive access to this live master class (and get the replay, too) as a bonus when you order your copy of my brand-new book The Gap – bridge the space between where you are and where you want to be BEFORE Saturday, November 14.
You can read all about & purchase your copy here!
.
.
Want more articles like this automatically delivered to your inbox?
Sign up for weekly(ish) updates below!
Enter your email to get FREE weekly (ish) updates on doing business & life YOUR way: