A couple of weeks ago something happened that pushed all my buttons.
All kinds of feelings & fears washed over me, and I wanted to move away from that as quickly as I could.
But I didn't.
Because I know that every time fears or other feelings we'd rather not feel show up, this is an opportunity to heal and grow.
And so I looked at it. Reluctantly. 🙂 I never enjoy diving in that pool of emotions at first but in the end, I always do it.
There's ALWAYS gold on the other side.
I filled page after page in my journal. I uncovered pains, fears and beliefs I didn't even know I had. I kept journaling and needed 2 more journaling sessions later that week to shift all of it. It was a MAJOR release that created a lot of space!
Every time something gets triggered in you, it's an invitation to heal and open up to more life.
USE YOUR TRIGGERS—THEY'RE HERE TO SUPPORT YOU!
Unfortunately, many people have no idea how to do this OR don't want to do it.
They run from their emotions (and themselves) or blame others for their unhappiness.
It's understandable and I totally get it! But I also there's SO much relief & clarity available if you just have the courage to explore what goes on inside you.
Is there something you're avoiding now?
LOOK at it. Feel it. Journal about it. Talk about it with a friend. It may feel shitty to do this at first, but NOT doing it feels even shittier.
Allow allow yourself to move through it, and see the gold that's on the other end of it…
Love,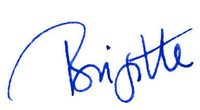 .
.
P.S.: Fears, blocks & obstacles are the ONLY thing standing between you and the manifestation of your most precious dreams & goals.
Not sure how to move through them? (Or not even clear what your dreams even are?)
My book Unmute Your Life – break free from fear & go for what you REALLY want shows you exactly how to do that!
.
.
Want more articles like this automatically delivered to your inbox?
Sign up for weekly(ish) updates below!
Enter your email to get FREE weekly (ish) updates on doing business & life YOUR way: