What I mean by a 'haver' is to see yourself as someone who can have what she wants.
As someone who looks at her dreams and knows they're within her reach.
This is not how everyone looks at their dreams and goals. (I don't always look at my dreams that way, either!)
What I often see is that people think of their dreams as being outside of their reach. They want something and at the same time…they can't imagine having it.
Which is a problem.
When you don't feel you can have what you want the door to receiving it is energetically closed. You don't have to fully believe it's possible to get what you want before you can have it, but at least the door needs to be open!
How you open it?
Is by starting to see yourself as the person who already has what she dreams of.
How you do that?
Is by dreaming a little bit more:
What does it look like when you've realized your goal?
How does it feel?
Think about that regularly. Imagine it. You'll notice that the picture becomes a little bit clearer every time you do.
Before you know it, you see yourself as a 'haver'.
And once you do? Your dream has no other option but to come true.
To living your dreams!
Love,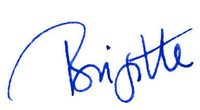 P.S.: I'm giving a FREE master class next week: How to Uncover Your TRUE Dream For Your Business & Life
It's happening on Thursday, August 6, and there will be a replay if you can't be there live.
(Also sign up if it's after August 6—you'll get access to the replay within minutes!)
P.P.S.: My book Unmute Your Life – break free from fear & go for what you REALLY want is available now! It's a powerful toolkit that helps you uncover your true dreams and make them real.
You can purchase your copy here.
.
.
.
Want more articles like this automatically delivered to your inbox?
Sign up for weekly(ish) updates below!
Enter your email to get FREE weekly (ish) updates on doing business & life YOUR way: