Last December I looked at my previous profile picture and thought: I need a new one.
No problem, however….I hate having my picture taken. HATE IT.
My previous picture was a still from a Facebook Live, so that was easy enough.
But this time, I couldn't even be bothered to do that.
⠀
So I instructed the universe to bring me a new picture without having to do ANYTHING for it.
⠀
And then forgot about it.
⠀
Fast forward a couple of months, and I had to send the copy for the back cover of my book to the designer. I still only had that old black and white picture, so I decided to NOT have my photo on it.
⠀
Imagine my surprise when I got the design back with…a photo on it!
⠀
"Every author needs their picture on their book," said Susan when I thanked her for doing that. "We want them to chase you in the isles of the grocery store!"
⠀
I'm not so sure about THAT 🤣,
BUT – I really liked the picture and am happy it's on my book*!
⠀
Turned out Susan took the initiative to go through my photos on Facebook (at least, I assume that's what she did) and picked this one. Which is a great choice because this photo captures who I am perfectly!
⠀
I liked it so much I asked her to also design a new website banner with the new picture, and now use it as my new profile pic, too.
⠀
And THEN….I realized I got exactly what I asked for!!!
⠀
Nice manifesting 🙂
⠀
The moral of this story (if any):
⠀
Nothing is impossible. You never know what can happen if only you ask – and then let go of all attachments.
⠀
What can you ask for that seems unlikely or impossible to you?
⠀
Ask! And then let go. You never know…
Love,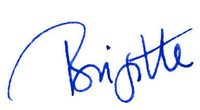 * that book is Unmute Your Life – break free from fear & go for what you REALLY want.
It's a powerful toolkit that helps you get crystal clear on your true dreams and make them real.
You can read all about the book & order your copy here. 
.
.
Want more articles like this automatically delivered to your inbox?
Sign up for weekly(ish) updates below!
Enter your email to get FREE weekly (ish) updates on doing business & life YOUR way: