I was on the phone with my coach yesterday, and she complimented me on my pre-publishing promotions for my upcoming book.  
We talked about how I enjoy marketing my book, and how easy it is for me. 
"It shows," she said. "It shows that you have love for it." 
And that's true.
I LOVE promoting my book, and I feel zero tension around marketing it.
When I promote programs, there's still always some tension around the marketing, and I don't enjoy it as much as I am now. 
"Interesting," she said, "Why do you think that is?" 
I didn't have to think about that: because books are my true love.
Yes, I love creating and delivering programs, too. And I love 1-1 coaching.
But my TRUE love? Are books. Always have been, always will be.
If you feel any tension around marketing whatever it is you sell, it definitely pays to shift your mindset around it.
If you've ever worked with a half-decent business coach, you know the drill: don't think of it as trying to get something from your client but focus on adding value instead, etc. etc. You know, stuff like that.
But THE most important part is this:
How IN LOVE are you with what you sell? Are you madly and deeply in love with your product, program, or service? Do you believe in it for 100% and do you LOVE everything about it? The content, the price, the way you deliver it, who you deliver it to?
If not, start changing your offers so you fall madly in love with them (again).
Start delivering and creating the things you TRULY love. Maybe all it takes is to tweak some things here and there. Maybe it means to change course in your business, or to FINALLY do what you deeply LOVE to do.
It takes away the tension you feel around your marketing. You'll feel happier, lighter, and more fulfilled. And money and clients flow to you with more ease.
Everything flows when you do what you're really, deeply, truly, madly in love with.
Are you madly in love with your business and offers?
If not, what needs to change? And how (and when) will you change that?
To honoring your true loves in business & life,
Love,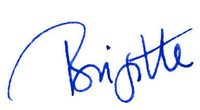 P.S.: My upcoming book 'Unmute Your Life – break free from fear & go for what you REALL' want will be published this month, and you can pre-order your Book Bonus Package now!
It's a super cool package that includes:
* a (signed) copy of the paperback;
* the e-book version of the book;
* 5 Live Out Loud! master classes that help you renew, revamp and revitalize your life (the first one is ready for you this Monday!)
* PLUS 3 Q&A calls
* AND a closed Facebook group.
There's also a VIP version of this package available.
You can read all about it here.
This offer is a time-limited, ONE-TIME offer.
The book will always be available, but this is your only chance to get it PLUS these master classes PLUS Q&A calls AND a closed Facebook group.
Enter your email to get FREE weekly (ish) updates on doing business & life YOUR way: