Ever since I was a kid, I pictured myself living like Pippi Longstocking: to have fun and be free and do what you want whenever you want, without anyone else having a say in it. To live without a care in the world, and happily float through the days in your own pace.
Oh, and I wanted to be a writer. Filling most of my time writing and reading was my idea of heaven. (It still is!!)
For many years my life did NOT look like this AT ALL. School, university, jobs….nothing could be further from this dream. My first years as an entrepreneur were more like it, but still a far cry away from how I most longed to live.
A couple of years ago, I realized I was mostly living my dream…it just didn't feel completely free yet. And with only 1 book on my name, I didn't feel 100% writer yet.
Fast forward to last week. I just sent my upcoming book to the designer – my work for the book was done. And suddenly I realized:
I'm for 100% (well….minus the Pippi house :-)) living my childhood dream. Which has always been more than a dream: it was a deep, solid KNOWING that this was what my life would look like. That this was what my life was all about.
A part of me was still striving for it, still thinking this was something in the future, just outside my reach. But it isn't. It's my reality. I already knew it, yet it sunk in deeper now.
I'm happy & grateful that I'm living my dream. AND I look forward to what's next!
How about you?
What is it that you've always wanted? The essence of it?
Where are you already living it? And what's next for you now?
Take a moment to think about it.
I bet you've already come further than you give yourself credit for.
And a new dream may be lining up for you already….
Love,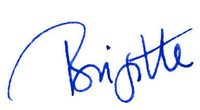 Want more articles like this automatically delivered to your inbox? AND be the first to hear when my upcoming book Unmute Your Life – break free from fear & go for what you REALLy want is available for you?
AND receive additional tips, inspiration & occasional gifts that I don't share anywhere else?
Sign up for weekly(ish) updates below!
Enter your email to get FREE weekly (ish) updates on doing business & life YOUR way: