If you're not used to working online or do work that can only be done face-to-face, this can be a difficult time for you.
With this article, I hope to bring you some inspiration and ideas.
I've been working online since 2008, and back then I wasn't 100% sure that my work (coaching 1-1 and in groups) would be just as effective online as face-to-face. Plus here in The Netherlands working online was completely new – I was one of the first handful of people who started offering online programs and coaching.
But I started working online anyway, because that's the best fit for me. Turned out, it worked – and since 2011 I only work online.
I'm not an expert at online business at all, BUT I learned a thing or two about it by doing it for so long myself now. And those two things I share in this article 🙂 
Take a look – it might give you some ideas, or at least some hope.
Let's start with some practical tips:
#1 All services can be delivered online in one way or another. Even when your work is based on direct contact, like massages or hairdressing, you can still come up with creative ways to sell what you do online. 
Hairdressers could for example create online lessons on DIY haircare: how to color your own hair / how to cut your own hair / tips on making your hair look like it's freshly cut even though it's 6 weeks overdue / new ways to style your outgrown coupe, etc.
If you're a massage therapist, you can create online master classes on self-massage / how to massage your partner or kids / how to make your own massage-oil / massage tips for specific issues (lower back / neck pain etc. / stress) / general relaxation techniques / etc.
Restaurants can give online cooking classes and cooking techniques.
Etc. etc. 
If you turn on your creativity, there are PLENTY of ideas you can come up with. No, you can't deliver an actual haircut or massage online, but that doesn't mean you can't be of service in other ways.
What creative ideas can you come up with for your line of work?
#2 Delivering your service and/or staying in touch with clients.
There's a lot of software, apps and tools available. Some are free, others are paid. Free are for example Skype, Facetime, WhatsApp, Voxer, Marco Polo, Instagram live, Facebook live.  Paid are for example Zoom, GotoWebinar, Instant Teleseminar.
You can put your content and lessons on a password-protected page on your website or use platforms like Teachable.
Google it. There are A LOT of possibilities.
As far as creating online lessons goes, a smartphone is really all you need. You can create both videos and audio lessons on it. (That's how I do it, too.)
It may seem daunting at first, and there's a learning curve to all this, but it IS doable!!
Which brings me to the second part of the puzzle that is actually the MOST important part: mindset. 
I deliberately didn't start with that, because I might have lost the nay-sayers whose first reaction is to say that no, Brigitte, not everyone can make money online!
Yeah, you can. 
But you will need to:
#1 Take back your power.
Stop giving it away to worry, stress, overwhelm, constantly watching the news, other people, or fear.
(I know, this can be very hard to do!! If fear has its grip on you now, read my article on how to handle it here.)
Turn your focus from the OUTSIDE to the INSIDE.
You have no control over what's going on in the world. You have EVERY control over your response to it. 
But you can only choose how to respond when you're calmer. When you're grounded. When your energy is not all over the place. And the only place to find that calm is INSIDE YOURSELF. 
Do whatever helps you calm down: meditate, sing, dance, cry, watch uplifting videos, breathe.
And then:
#2 DECIDE this will work one for you one way or another.
As Arjen, my partner, who's a genius in creating things that don't yet exist (and others think can't be done) always says: the solution is out there. I just don't see it yet.
The same is true for you. Your solution is out there. You just don't see it yet.
BUT…you can only see it when you're open to see it. 
As long as you think all is lost and it can't possibly work, your eyes are closed.
When you decide the solution is out there and you WILL find it, the solution will find YOU.
Affirm:
There IS a way to make this work for me.
There IS a way for me to do business online.
I may not see it yet, but I will!
#3 Open your mind.
Shift into curiosity:
Hmmmmm….I wonder how it COULD be possible? I wonder what I COULD do? I wonder how it COULD work? 
Decide making money now will work for you one way or another.
And the solution WILL come to you, I promise!!
As mentioned before, I had some doubts about working online myself.
Turned out that for me, it works even better. There's a lot less distraction when all I have to focus on is someone's voice and energy. It made my coaching even more powerful. And it made it possible to work with people from all over the world instead of in my country, too!
But the only reason I got those results was that I decided it was possible, one way or another. I didn't accept any other outcome. That's how the answers and solutions could find me. As they will you!!!
You may feel overwhelmed or stressed now.
That's understandable, and there's absolutely nothing wrong with that!
Deal with that first. (This tips in this article on how to handle fear ALSO apply to all other feelings and emotions that make you feel down.)
You'll feel calmer again if you decide that you will and choose to unhook from all fear-based news (and people!) as much as possible.
I'm not saying to stick your head in the sand or ignore what's going on.
No. But there's a difference between staying informed and overindulge on the news.
Between feeling your fear and feeding it.
Trust. You'll get through this. We all will.
To creativity and an open mind!
Love,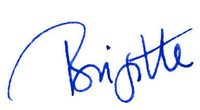 P.S.: Looking for more mindset & energy tips? 
Join me in my upcoming free call Thrive Through Chaos & Change!
Here's what you'll learn:
Enter your email to get FREE weekly (ish) updates on doing business & life YOUR way: