I was watching Chef's Table on Netflix yesterday.
And the beginning of the episode with Bo Songvisava, a Thai chef, stood out for me
Here's what she said:
"Thailand is a hospitality country. Whatever you ask it's: "Yes, I can do that for you."
Thais have been serving what the customer wants. They dumb down the flavors. But at my restaurant, we're not gonna do that. We want to show them the real thing. We keep the flavors as traditional Thai. We're not gonna make it less spicy because you can't eat spicy.
People walk out from my restaurant. But… we are happier if they decide not to eat. Because if the mind is not going to open from the beginning, it's not going to work."
I LOVE that!!
And there's an important business lesson in this for everyone:
Don't dumb down your flavors. Your message. Yourself!
Don't deliver something that isn't true to you, to your soul.
Don't give customers what they want because you're afraid they'll walk away.
Let them. They can go to someone else who can give them what they want without resentment.
And you're free to deliver the best you have to offer to people who need and want exactly that.
Give your clients the real thing.
The real YOU.
Everyone will be happier.
Everyone benefits.
Where are you dumbing down your flavor, your message, your essence, yourself?
Where are you saying 'yes' where you'd rather say no?
Where is fear of people walking out calling the shots (instead of the love for what you do and how you want to do it)?
And what will you do to change that?
The more you are YOU, the better it is for you, your business AND your clients.
Keep it real, baby 🙂
Love,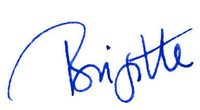 Want more articles like this automatically delivered to your inbox?
AND receive additional tips, inspiration & occasional gifts that I don't share anywhere else?
Sign up for weekly(ish) updates below!
Enter your email to get FREE weekly (ish) updates on doing business & life YOUR way: