Recently I had a great idea for a program.
It's something I can easily deliver.
It's something I KNOW people are interested in learning from me: I already coach my 1-1 clients on it and regularly receive questions about it in my other programs.
It's even a topic I like and am passionate about.
AND….I'm not doing it.
At least, for now.
Why?
Because it's not a FUCK YESSSSSS!!!!!! It's not the time. Other things require my attention more. (Specifically: my book.)
If at any point I feel it's time to implement the idea, I'll have it up and running in no time at all.
That's always what happens once I'm 100% aligned with an idea.
But for now? It's a NO.
I share this with you, because I SO OFTEN SEE PEOPLE MOVE FORWARD WITH THINGS THAT AREN'T A 100% FUCK YES FOR THEM.
They deliver a program or service they're not necessarily on fire about, but hey, there's a need for it, their clients ask for it, so it's stupid to leave money on the table, right?
Maybe you do that, too.
Or maybe you add live days to your program because your clients beg for it – even though you'd much rather do everything online.
Maybe you offer a free challenge because everyone says that's a great marketing tool, even though you're not thrilled about it.
Maybe you're on LinkedIn because your audience is there but you absolutely hate that platform 'cause it's so boring – but hey, it's where your peeps hang out so you might as well show up there, too.
NO.
NO NO NO NOPE.
When you're not 100% aligned with WHAT you do, sell, & offer and HOW you do, sell, or offer it, it's a bloody waste of time & energy.
It won't give you optimal results when you don't feel optimal about it to begin with.
Get behind everything you do for 100%: change what needs to change in order to make it a FUCK YES!
And if there's nothing you can tweak to get 100% behind it?  Your mindset, actions, ways of doing something, NOTHING?
STOP.
Even when it could make you money (or already does.) Something better is available for you. Make space for it. By letting go of what's not 100% aligned with you.
Love,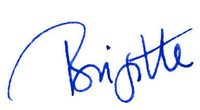 Want more articles like this automatically delivered to your inbox?
AND receive additional tips, inspiration & occasional gifts that I don't share anywhere else?
Sign up for weekly(ish) updates below!
Enter your email to get FREE weekly (ish) updates on doing business & life YOUR way: