WHEN YOU FEEL LIKE IT TAKES FOREVER TO GET YOUR WORK (YOUR SOUL) OUT INTO THE WORLD.
When I look back at my life, it sometimes feels like I spent most of it waiting.
Waiting to find what it was I'm born to do.
Waiting to find the words for it, but more importantly: my own understanding of it.
Waiting to find the forms & ways to share what I'm here to do.
Waiting. So much waiting.
Not that I was passively leaning backwards hoping everything I looked for would spontaneously land in my lap.
God no!
I was constantly and always working on it on ALL levels.
I worked with coaches, started my business, did TONS of inner work & healing, took giant leaps, did scary things, had successes & failures and never, never, EVER gave up.
But while I was doing all of that, I always felt there was more: more to be expressed, more to be uncovered, more to embrace, more to find out, more to dare, more to build strength for.
Even though I'm doing what I love and live my purpose since almost 20 years now, for most of that time I STILL felt there was more that somehow, could not come out yet.
Either because I wasn't ready or the world wasn't ready or the time wasn't just right. 
Without knowing who exactly decides when the time is right (My soul? Life?)
Without knowing exactly what it means that 'the world' isn't ready yet.
But somewhere along the way, that changed.  
I no longer feel that I'm waiting.
Yes, I still feel that there's more inside me that wants to (and WILL) be expressed, but that's normal and makes perfect sense: I'm not done with this life for a long shot!
But I finally feel that I'm READY for it.
For my destiny.
All of it.
And even though I'm not sure I believe in the concept of destiny, I DO believe my soul set out to do, experience and contribute some specific things in this life. I'm ready for all of it. And I welcome it with open arms.
And if YOU feel like it takes forever to finally get to the life you're born to live?
Have faith.
Your time IS HERE NOW TOO.
You needed to learn, heal, grow & experience some other stuff first. 
And the world or your audience weren't ready for it yet. 
They're ready now, too.
Your wait is over.
Spread your wings.
You're ready. 🦋
Love,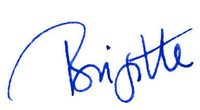 P.S.: Need help spreading your wings? 
My 1-1 coaching might be just what you need.
You can read all about & apply for a spot here.
©️ Brigitte van Tuijl
Want more articles like this automatically delivered to your inbox?
AND receive additional tips, inspiration & occasional gifts that I don't share anywhere else?
Sign up for weekly(ish) updates below!
Enter your email to get FREE weekly (ish) updates on doing business & life YOUR way: