For a while now, I felt 'stuck' at the same income level.
There's nothing wrong with that income – AND I'd like to make more.
But no matter what I tried so far …it didn't work.
The reason why it didn't work, was that I want it AND don't want it at the same time:
I want to make more money.
And at the same time, I don't give a shit about the money.
(Side note: Yes, I know, it's a luxury to be able to say that. You can only say that when you have enough to pay the bills and have enough to survive. I know. I've NOT been able to pay the bills long enough to know how stressful that is. And then you certainly DO care about the money!)
So a money goal in itself?
Does NOT make my heart sing.
At all.
And when your goal doesn't sing to you?
When there's no deeper motivation behind wanting something?
Or when your reason for wanting something isn't aligned with your soul?
It makes it hard – or impossible – to reach that goal.
As my coach correctly said when I talked to her about this:
You have to either find the juice in your goal, or let go of the goal all together. 
So true! 
So I started feeling into that.
What REALLY drives me when it comes to making more money and breaking through this ceiling?
It didn't take me long to find it.
Here it is, as I emailed it to my coach:
I found the juice in the money!
First, what it's NOT:
It's NOT the money itself.
It's NOT what I can do with that money.
It's NOT what that money brings or makes possible for me.
It's NOT what I choose to spend it on.
And it's NOT how the money makes me feel.
But aahhhhh, here IS the juice! 
It's in the manifesting.
It's in embracing the realization that I'm a divine being with powers unimaginable, capable of manifesting ANYTHING I choose – and then some.
And as a divine being capable of ANYTHING (and then some), it's simply not possible to NOT be able to manifest more money than I currently make.
It is my choice and my decision that I live from the perspective of my divinity, to embody my divinity, and to blend the 'spiritual' and the 'material' on all levels of my being, because it IS one.
As such, it's simply impossible AND absolutely unacceptable to NOT be able to 'break through' my income ceiling.
There IS no ceiling!
That I still somehow think there is, shows me EXACTLY where I'm not embracing and embodying my divine self, my true self yet.
It shows me where I hide out, play small, and believe in 'I'm only human'.
It shows me where I doubt my own divinity, and where I doubt how manifesting, life and the universe works.
It shows me where I'm not fully open and available to abundance, and to LIFE itself.
It shows me where I can expand, open up, allow, let go, and step into BEing more. 
And the amount of money I receive, shows me exactly what I can open up to next.
Where I still put limits on myself.
And it shows me where I can lean into and allow more of next.
NOW we're at the point where:
this feels like FUN!!! 
I ENJOY this game
I am not attached
Over to you, now! 
If you have trouble receiving more money than you currently make, check this:
Do you know why you want to make more money?
How it will make you feel?
And what to spend that money on?
Does ANY of that light you up? Or does your desire to make more money feels flat? Like you don't even care? Or does it come from scarcity or lack?
If your goal feels flat or 'meh' to you, you've got to do the same thing I did:
Either find what deeply motivates you to make more money – or let go of your money goal all together.
To finding your juice, baby ;-),
Love,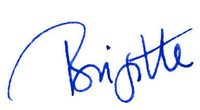 P.S.: You're a divine being, too, by the way.
Just saying, in case you temporarily forgot 😉
P.P.S.: Want to receive a year long support, inspiration, master classes, my book(s) and other cool stuff on putting YOU first in business and life, so you can make a difference and good money without compromising or selling yourself short?
My Divinely Selfish Community might be just what you're looking for!
Check it out here and sign up if it resonates (and before the price doubles early February!)
 And when you sign up BEFORE February 1?
You also get access to the temporary bonus 'Your Personal Success Recipe'.
The women who already created theirs are super happy with it 😉
This bonus is available until Friday ONLY. 
©️ Brigitte van Tuijl
Want more articles like this automatically delivered to your inbox?
AND receive additional tips, inspiration & occasional gifts that I don't share anywhere else?
Sign up for weekly(ish) updates below!
Enter your email to get FREE weekly (ish) updates on doing business & life YOUR way: