There's a time to dream and prepare.
There's a time to start.
And there's a time to focus, follow through and finish.
That time is now.
Why?
Because we only have 2 more months to go in 2018.
Of those 2 months, chances are you won't get much done in the two weeks around Christmas and New Year.
So that roughly takes 2 weeks off of those 2 months right now.
But you still have unfinished business:
Abandoned projects.
Unrealized dreams.
Uncompleted ideas and creations.
At the beginning of this year, it seemed like you had all the time in the world to wrap those all up before Christmas.
And you succeeded at some or maybe even most of it by now.
But did you realize EVERYTHING you set your mind to at January 1?
Did you finish EVERYTHING you wanted to do and achieve?
Did you SURPASS the goals & intentions you set for yourself?
I sure didn't.
Yes, my results this year are good.
But are they everything I wanted them to be? 
NO.
THE most important thing I'm working on – and have been working on for a looonnnnggggg time now – is not finished yet.
My book.
The first book of my upcoming 'The Art of Divine Selfishness' book-series is NOT DONE YET.
Why?
Part of it is Divine Timing– there's my timing, AND every project, idea, and life itself ALSO has a timing of its own.
Every flower blossoms at her own pace, in her own timing. You can't force it.
You can do everything you can to nurture her and create the best possible circumstances for her to blossom. But that's it. Other than that it's out of your hands.
Part of it is that I wasn't ready yet– although most of that inner work was done before this year even started.
Part of it is that the book wasn't ready yet– part of the content and how the book was structured just wasn't clear for a while, no matter how much I tried to clarify it.
Another part of the creative process you just can't force to go any faster.
AND part of it is that I haven't focused on it enough.
Didn't give it enough priority.
Gave in to overwhelm instead of getting my shit together.
Kept tweaking little things that could also have waited.
Chances are the same goes for whatever business you haven't finished this year:
Part of it is Divine Timing.
Part of it is that you or your idea weren't ready yet.
AND part of it is that you didn't prioritize it.
Didn't give it enough of your time and attention.
And you didn't take all the actions you, in all honestly, could have taken by now.
You may have felt a nudge or inspiration – but for whatever reason, let it pass you by.
It's all good, though!
Because you STILL have PLENTY of time to finish your unfinished business this year – or to AT LEAST make HUGE progress on it.
If you:
Start now.
Prioritize it – give it the focus, time and energy it needs.
And you follow through: not only do you make the time to work on it, you actually WORK on it during those times, too.
Don't wait.
Before you know it it's Christmas, and you're still at the same point you're at right now.
It's time to focus, follow through, and finish.
NOT because you MUST – or else bad things will happen.
NOT because you SHOULD WORK HARD – or else your business will fail.
NOT because it's NOW OR NEVER – that's bullshit. Most ideas can wait.
And you can easily take all your unfinished with you into 2019, and start working on the exact same goals and creations then.
But because it FEELS SO MUCH BETTER.
Because actually working on finishing something frees up ALLLL that energy you now put in thinking about it, dreaming about it, and reminding yourself that you should really get a move on with it. 
Because the energy it frees up makes you feel more alive and awake in general.
Because giving extra TLC to your unfinished business adds extra TLC to ALL of your business – and you'll feel more flow in every area of your business & life.
Because it feels exciting!
And because of allll the new things that can happen now that you're working on – and finishing – your creation. 
It opens up space for new ideas, new results, new perspectives, new success, new opportunities, new possibilities, new options, and will very possibly even lead to new clients!
Because when you FEEL better and you're more energized, it's easier to attract more of anything you want into your life.
It often happens automatically!
It's time to start finishing, baby 😉
And that's a lot more fun AND a lot easier when you're surrounded by others doing the same thing – and when you receive daily nudges, winks, inspiration & support & cheering on to start, focus, follow through and finish your thing – whatever your thing is exactly.
And I've got you covered on that daily support & cheering on & gentle nudges, winks, inspiration & accountability – thing.
Because that's exactly what you get in: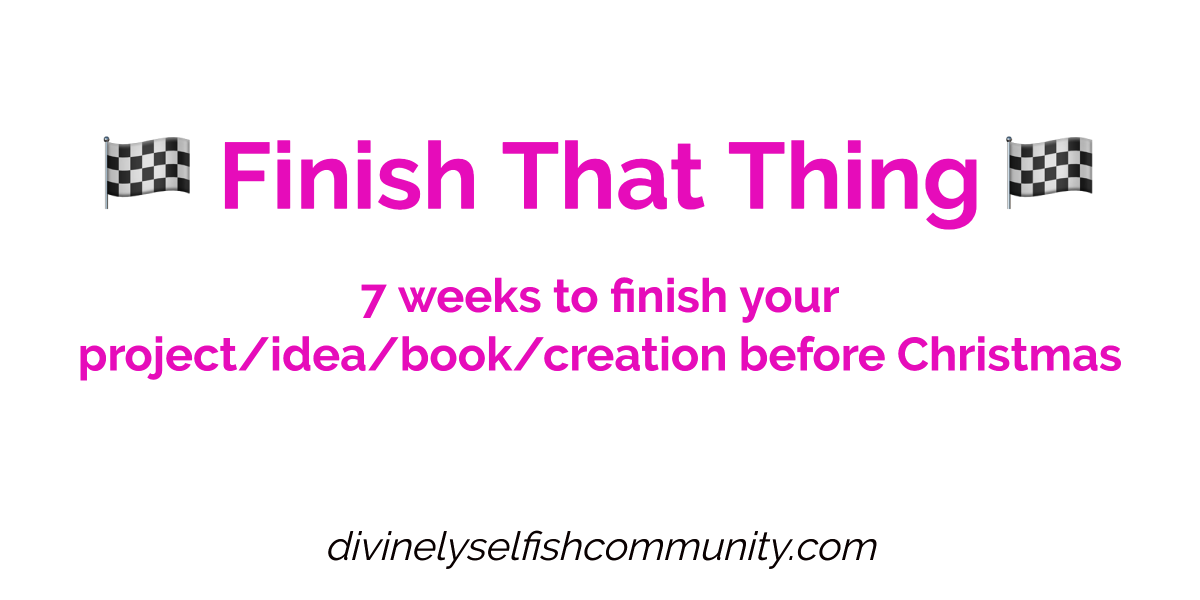 This 7-week program starts this Monday, November 5.
You receive:
* a master class that helps set you up to finish your idea this year with as much ease & fun as possible!
* daily accountability & additional nudges, inspiration & motivation to keep moving forward;
* 2 extra Facebook Live Q&A's (in addition to the regular monthly Q&A call);
* and being in the company of like-minded women who are working on the same thing you are: finishing whatever  you still want to wrap up before this year is over – so you end 2018 with a bang and start with a clean slate in 2019!
And I'll be there to support you & cheer you on every single day!
(* your Thing can be anything you'd like to wrap up this year:
rewrite your website /create your freebie / create your new program / or wrap up multiple loose ends on your I-wish-this-was-done-list.)
This 7-week program is happening in the Divinely Selfish Community only.
And if you join now, you get instant access to a bonus program on growing your business without using any soul-sucking strategies.
Plus other cool content.
So you can dive into some juicy stuff right away.
You can read all about & sign up for it here.
Come finish your thing with us?
Love,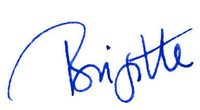 P.S.  Finish That Thing is not  only super helpful & inspirational.
It's also FUN!
I'm sharing my BEST tips & tricks & mindset-shifts that help make finishing your project as easy & fun as possible.
AND: I'm around DAILY throughout those 7 weeks to support you and cheer you on.
You receive ALL of this PLUS all the other great content PLUS a bonus program AND a year long membership of the Divinely Selfish Community for only 197 Euros*
I know. Crazy. 
That price is DEFINITELY going up in January – or maybe even sooner.
One thing I do know: the price goes up to 397 Euros.
So grab your spot now at this ridiculously low investment – which includes the 7-week program Finish That Thing.
I look forward to cheering you on!
(* VAT for those in The Netherlands not included. Approximately 242 US dollars, depending on the current exchange rate. Payment plan available.)
©️ Brigitte van Tuijl
Want more articles like this automatically delivered to your inbox?
AND receive additional tips, inspiration & occasional gifts that I don't share anywhere else?
Sign up for weekly(ish) updates below!
Enter your email to get FREE weekly (ish) updates on doing business & life YOUR way: