The only true path to success is this:
To be true to who you really are.
To let your true self SHINE BRIGHT in every aspect of your business & marketing.
And to build your ENTIRE business (model) around your true self.
It's the only path.
Yet it's the path most people DON'T follow.
Because you don't believe it's possible. (If it was, wouldn't EVERYBODY always only do what they love?)
Because it feels too easy. (How can anything worthwhile possibly feel that good and easy?)
Because you see don't see others do business that way. (Makes sense, because most people just copy what others do – if it works for them, surely it will work for you, too?)
Because you've been told that you can't be like this and can't do things like that – that's not how it's done! If you want to succeed at anything, you have to play by the rules whether you like it or not! (It would be total chaos if everyone just did whatever they felt like! Chaos!)
Because you've been taught to believe that making money is Hard and business is Hard Work and if you want to have more? You've got to DO more! (So if it's not hard and it doesn't require some sort of sacrifice? It's impossible to grow and it won't make you money.)
The list of things I've been told I needed to change about who I am and what I want and how I want it is INCREDIBLY long.
To name just a few, I've been told to:
Be more strategic and think ahead more. Create a business plan and a marketing plan and a long-term strategy. ("You can't just wing it! That's not how business is done!")
Be more outgoing and extraverted. ("You can't get clients if you don't get out there! Mingle! Network! Talk to people! You can't grow your business when all you do is sit home and go nowhere!")
Curse less. ("You don't need it! And it drives people away who might very well become your client if only you didn't say 'fuck' or 'goddammit'!")
Create a flagship / signature program. ("It makes everything easier, and your clients know exactly what they should come to you for.")
Stop creating new things all the time– and stop throwing out everything I create once I'm no longer in love with it myself. ("You don't have to be in love with your program. Your CLIENTS need to be in love with it. You're throwing money away! Learn to monetize what you have instead of constantly do new things!")
Build a business model and stick with it, instead of changing it every time I feel like changing it. ("If you keep changing everything, it's so much harder to make money. It's just so much more work.")
To name just a few things I've been repeatedly told.
I'm not saying none of it is true. I'm just saying that none of it is true for ME.
And that's the whole point.
What works for you might totally suck for me.
What works for me might be a disaster for you.
What's true for me can be untrue for you.
And vice versa.
We all grow up learning to conform ourselves:
To how 'we' agreed the world and business works; to how things just are; to how it's been done since always and why question that now?
We learn that we're loved and accepted when we behave as we're expected to.
We learn that we get good grades when we repeat what we've been taught.
We learn that when we're different, that's not something to be celebrated. It's something to change and adjust and even feel ashamed about.
So when we start our business, the first thing we do is look at how others do it, so we can do it like that, too.
For some people, that works.
For others, it doesn't.
I'm one of those people it doesn't work for. And never did.
Oh, yes, I tried to do what others did.
Because I knew jack shit about building a business and I wasn't very successful at it for years.
I thought this meant I was doing it wrong.
And I thought that there must be something wrong with me.
So I tried to find a balance between doing my own thing and doing business in ways that worked well for others.
The result?
Mwah.
I either didn't get ANY results at all (which made me wonder what was wrong with me even more. Because clearly, this strategy or program was working for others – so why the fuck didn't it work for me at all?)
Or I got results – but I wasn't happy with what I had to do for it.
You know what finally DID work? And what made THE biggest positive difference in my business?
Being 100% true to myself and how I want things in EVERYTHING I DO ALWAYS.
To dump and ditch and stop doing EVERYTHING I didn't want to do.
To build my ENTIRE business EXACTLY as I want it to be, so it fits me like a glove.
And to let my soul take the lead and follow her EVERYWHERE.
And since you're reading this article? I'm pretty sure YOU are someone who NEEDS to do her own thing, too.
Because when you don't?
You either get results but feel miserable about it.
Or you get no results at all.
The answer is NOT to try a new strategy or work even harder or tone yourself down even more.
On the contrary!!
The answer is to DITCH whatever doesn't feel right.
To TURN UP THE VOLUME of your personality & soul to FULL BLAST.
To be 100% true to what you love, who you are, and how you want to do business & life.
And to not settle for ANYTHING less.
I see it in my clients ALWAYS, since the day I coached my first client in 2001: 
The answer to how you can make money & a difference doing what you love is NEVER to change who you are or adjust how you like to work.
The answer is ALWAYS to be unapologetically true to who you are, and ONLY work exactly how you LOVE to work.
ALWAYS.
To being true to you,
In everything you do,
Not only because it feels WAY better,
But because it's the ONLY true path to success,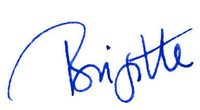 P.S. On a totally different note:
Do you have a project or idea you'd still like to finish this year?
I bet you do.
Maybe it's a book, a sales page, or a new freebie.
Or maybe you've got a bunch of loose ends you'd like to tie up.
And there's still plenty of time – if you start NOW.
My new 7-week program can help you with that.
And it starts next Monday, November 5!
Introducing: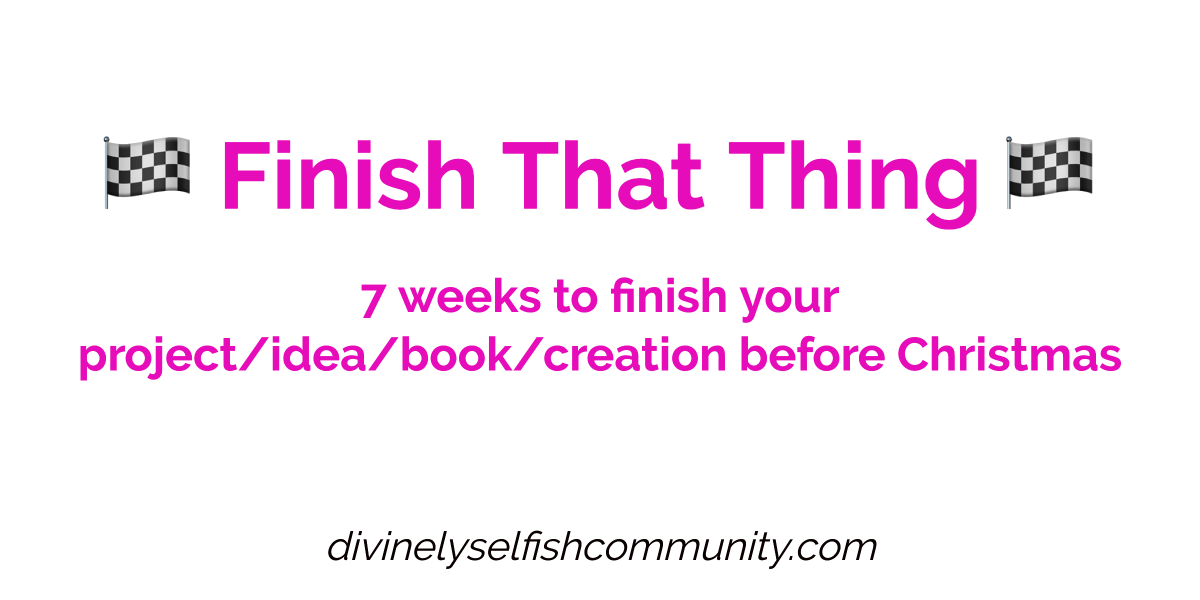 With:
* a master class that helps set you up to finish your idea this year with as much ease & fun as possible!
* daily accountability & additional nudges, inspiration & motivation to keep moving forward;
* 2 extra Facebook Live Q&A's (in addition to the regular monthly Q&A call);
* and being in the company of like-minded women who are working on the same thing you are: finishing whatever  you still want to wrap up before this year is over – so you end 2018 with a bang and start with a clean slate in 2019!
And I'll be there to support you & cheer you on every single day!
(* your Thing can be anything you'd like to wrap up this year:
rewrite your website /create your freebie / create your new program / or wrap up multiple loose ends on your I-wish-this-was-done-list.)
This 7-week program is happening in the Divinely Selfish Community only.
We start next week, on Monday November 5th.
But if you join now, you get instant access to a bonus program on growing your business without using any soul-sucking strategies.
Plus other cool content.
So you can dive into some juicy stuff right away.
You can read all about & sign up for it here.
It's not only super helpful & inspirational.
It's also FUN!
I'm sharing my BEST tips & tricks & mindset-shifts that help make finishing your project as easy & fun as possible.
Plus: I'm around DAILY throughout those 7 weeks to support you and cheer you on.
You receive ALL of this PLUS all the other great content PLUS a bonus program AND a year long membership of the Divinely Selfish Community for only 197 Euros*
I know. Crazy. 
That price is DEFINITELY going up in January.
So grab your spot now at this ridiculously low investment – which includes the 7-week program Finish That Thing.
(* VAT for those in The Netherlands not included. Approximately 242 US dollars, depending on the current exchange rate. Payment plan available.)
©️ Brigitte van Tuijl
Want more articles like this automatically delivered to your inbox?
AND receive additional tips, inspiration & occasional gifts that I don't share anywhere else?
Sign up for weekly(ish) updates below!
Enter your email to get FREE weekly (ish) updates on doing business & life YOUR way: