I wrote about it several times this past week:
How most women give too much.
Receive too little.
And don't ask for nearly enough.
You may already know you could ask for more – but maybe you don't.
Or maybe you don't realize how it hurts your business as much as it hurts YOU.
So let's look at that now, shall we?
How exactly does it hurt you if you don't ask (for) enough?
Well, like this for example:
#1 You deplete yourself because you give too much and receive too little in return (you can't receive what you don't even ask for);
#2 You don't make enough money, because;
– your prices are too low;
– you don't ask people to buy from you;
– or you don't market what you offer enough, for fear that you are too much or you email too much or you ask for too much.
(BUT not asking people to join you or buy from you hurts both you AND them:
How can people know what you have to offer if you don't TELL them?
And don't invite them – ASK them – to join you if what you offer sounds like a great fit for them?
And how can you help them if they don't join your program or buy your service or product?)
#3 You work much harder than necessary because:
– you don't ask for support or help;
– you reinvent the wheel instead of asking for advice;
– you don't delegate as much as you could.
In short:
Not asking (for) enough wears you out AND makes it harder (or even impossible) to grow your business.
I'd say that's enough reason to stretch your asking muscle, don't you?
You can go it alone, if you like.
But why would you, if I thought it all out for you already?
We start tomorrow.
See you there?
Love,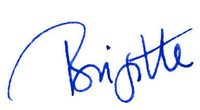 * a 45-minute master class (it's ready now; and the women who already listened to it LOVED it – eye-opening and inspiring!)
* daily emails with little nudges, reminders, action steps and/or extra inspiration you can implement straight away,
and


* 2 extra Q&A's on this specific topic via Facebook live (on top of the regular monthly Q&A call).


©️ Brigitte van Tuijl
*************
Want more articles like this automatically delivered to your inbox?
Sign up for weekly(ish) updates below!
Enter your email to get FREE weekly (ish) updates on doing business & life YOUR way: